CT ECO on ArcGIS Online
Personalize CT ECO Maps using ArcGIS Online
CT ECO data is now available on ArcGIS Online. ArcGIS Online is a website, developed by the mapping company Esri, that allows a user to create custom, interactive web maps and apps and save them to an online account. Maps can be edited, shared and embedded on third party websites. CT ECO on ArcGIS Online includes maps and data provided through the CT ECO website in easy to use single factor web maps. Additionally, CT ECO on ArcGIS Online provides featured maps for Connecticut as well as access to image and map services through the ArcGIS Online web map. This page provides more information about the CT ECO ArcGIS Online website and provides tips on how to start creating your own customized web maps using ArcGIS Online.

Before you start, you may want to create a free AGOL Public account if you don't have one already. That's what you need in order to save and share personalized maps on the web. Be sure it is a personal account which is free for personal use.
---
Getting Started with CT ECO on ArcGIS Online
CT ECO thematic maps, image and map services are now available on ArcGIS Online. ArcGIS Online provides map galleries for browsing and viewing these maps and data services. Additionally, the CT ECO "Featured Map Gallery" showcases topical maps including those related to current events and new data releases. Users with ArcGIS Online accounts can search for CT ECO maps and data and save copies of these resources to their own accounts and customize maps with additional data sets and maps services.
Visit http://cteco.maps.arcgis.com to get started!
The Home Page: The home page provides access to the CT ECO map "Gallery", CT ECO "Groups" and "Featured Maps". Users can sign in and access personalized content from the "My Content" tab at the top of the page or create a new map from scratch using the "Map".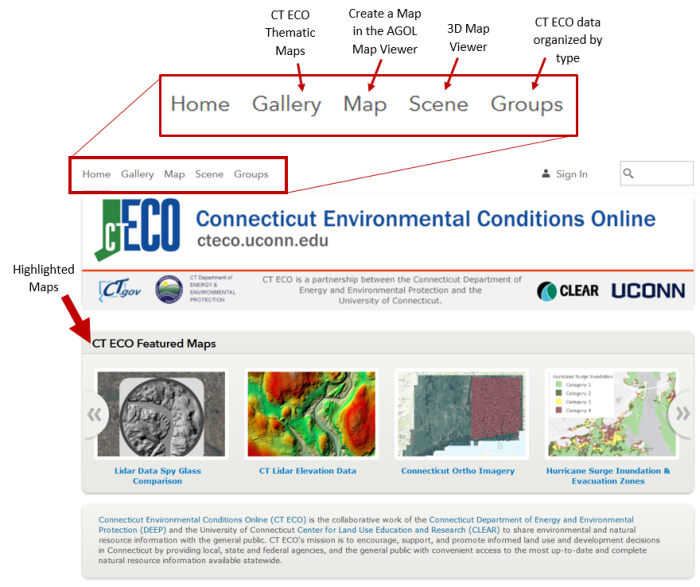 ---
The Map Gallery
Click on the Gallery tab at the top of the homepage. The Gallery features CT ECO thematic map sets. These are similar layers to what can be seen in the Simple Map Viewer on the CT ECO website. Click on any map in the gallery to open it in the ArcGIS Online map viewer.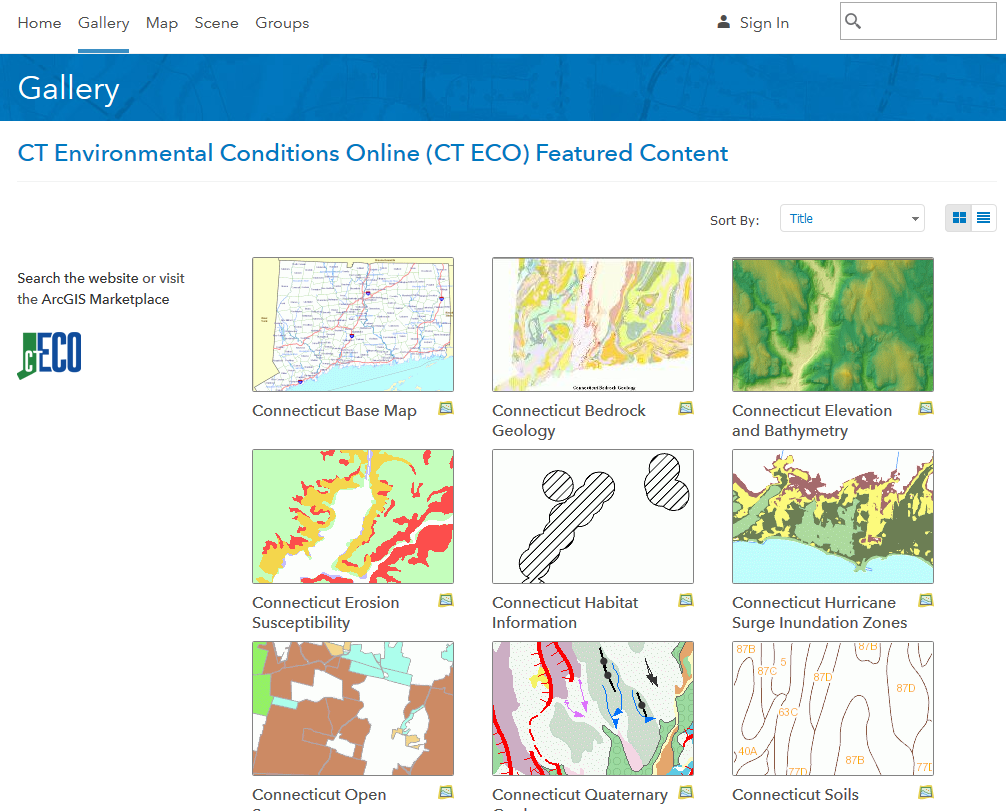 ---
The Map Viewer
The map viewer can be accessed by clicking on a specific CT ECO map in a gallery or group, or by opening the map from the Map tab at the top of the ArcGIS Online interface. Once the map is opened, a user can interact with it by zooming in or out, panning the map, clicking on features to view attribute information, searching for a location or address, measure features and even print or share the map. Special Note: The visibilty of some layers is dependent on the map scale. If you do not see anything, zoom in!
---
Modifying a Web Map
ArcGIS Online maps can be edited and saved to a user account. Users can add additional data layers to an ArcGIS Online map, or draw their own layers using Map Notes. To modify a web map, click on the Modify Map button in the upper right corner of the ArcGIS Online web map. This will give you the ability to add additional layers, create bookmarks, save your map (once you log into your account), or create a new map.


---
Saving CT ECO Maps to Your Personal Account
ArcGIS Online for personal use allows a user to create a user account, search for maps and data and create, save and share content. Once you have created your free ArcGIS Online for Personal Use account, you can save a CT ECO map to your own account and will be able to access and edit it in the future. When you click the Save button in the web map, ArcGIS Online will prompt you to log into your account then provide details about your saved map.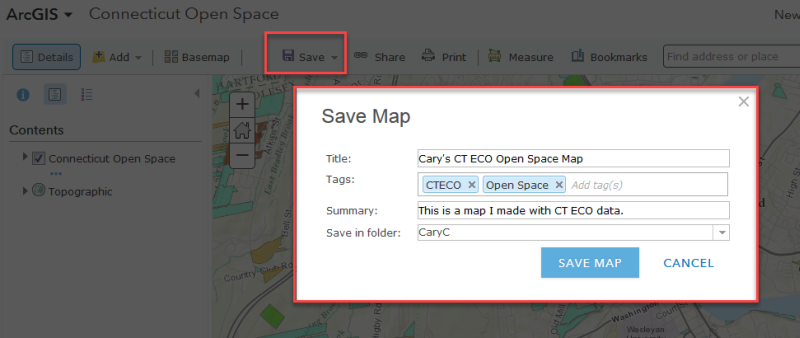 Your ArcGIS Online Account:
You will have access to your saved maps and data in ArcGIS Online from the My Content window. Your account settings and profile are available by clicking on your user name at the top of the interface. You can access these menus from the ArcGIS Online web map drop down menus at the top of the interface.

---
Adding Your Own Content:
As mentined above, you can add additional content to a map. ArcGIS Online allows a user to search for additional layers from public content, add web services, upload local content or create new content by "drawing" on the map using an editable layer called a Map Note. Detailed information about how to add these different forms of data is available in the
ArcGIS.com Online Help Guide
. These items can be added to your map from the "Add" icon on the Map Viewer toolbar.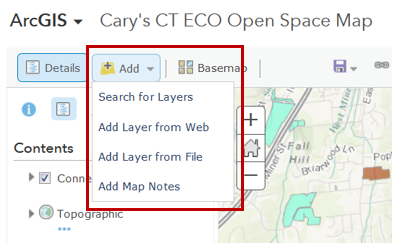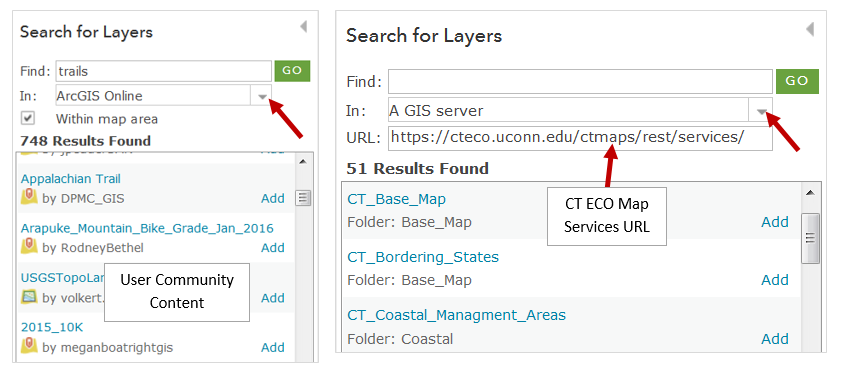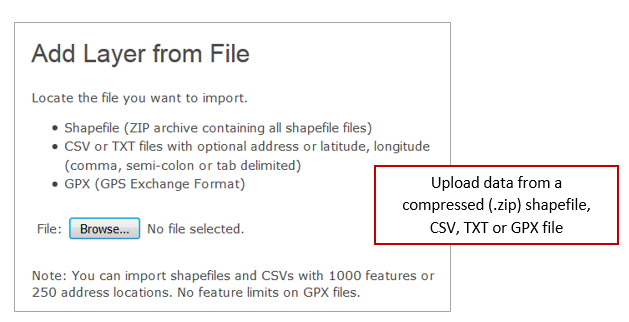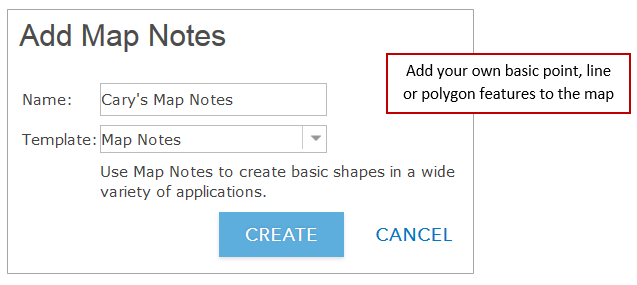 ---
Sharing a Map:
ArcGIS Online maps can be shared publically, within groups, on social media sites and embedded in websites. Click on the Share icon on the top of the map to view the Sharing options. The simplest way to share a public map is to copy and paste the link and share via email or post on your website, blog, or social media feed. Give it a try! If you're feeling super ambitious, try using the "Embed in Website" option to generate HTML for embedding the map within your website. Another option is to explore the ArcGIS Online Web Apps - templates and tools for building customizable mapping apps. That should be enough to keep you busy for a while!