DEP Property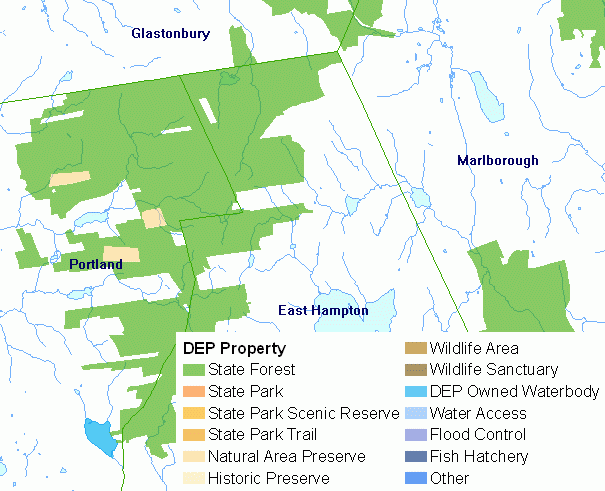 Description
DEP Property includes parcels of land owned and managed by the Connecticut Department of Energy and Environmental Protection (DEEP) for the purpose of preserving open space, protecting natural habitats, managing wildlife, controlling floods, and providing the general public with outdoor recreational opportunities such as hiking, biking, swimming, fishing, boating, camping and hunting. It primarily includes the following types of DEP Property: state forest, state park, state park scenic reserve, state park trail, natural area preserve, historic preserve, wildlife area, wildlife sanctuary, DEP owned waterbody, water access, flood control, and fish hatchery. DEP Property is based on information from DEP land record information and is updated upon acquisition of new parcels of land.
Purpose
Use this information to view parcels that are owned by DEEP. DEP Property can be used with other related cadastral or parcel level data such as protected open space, statewide trails, DEP boat launches, and land parcels collected for the DEP protected open space mapping project. It can also be used with a variety of environmental data to assess and analyze critical habitats, natural diversity database areas, soil conditions, wetland soils, fisheries management area, geologic and other environmental conditions at or nearby DEP Property.
Use Limitations
This is the best digital information available statewide of DEP property, but it is not consistently accurate and complete. Compiled from DEP land records, there may be obvious and not so obvious omissions and inaccuracies with this information. The DEP Property data is not meant to be used for legal boundary purposes. Some DEP Property parcels may be missing or positioned incorrectly. Since parcel boundaries were created using a variety of data entry methods, some boundaries may be more accurately positioned than others. Most parcel boundaries were created at 1:24,000 scale using the U.S. Geological Survey Topographic Quadrangle maps as a base and will not align accurately with features such as roads shown on aerial photography. Parcels for more recently acquired property are more accurately positioned because they were created using A-2 certified boundary survey maps with courses, distances and accurate starting locations. This information is not meant to be used at map scales larger and more detailed than 1:24,000 scale (1 inch = 2,000 feet).
Dataset Information
Status - This information is updated as needed to include new acquistions.
Date of Data - Refer to the Citiation Publication date in the GIS Metadata for the date of the data currently available online.
Map Scale and Accuracy - The information meets horizontal National Map Accuracy Standards for 1:24,000-scale mapping (1 inch = 2,000 feet).
Additional Documentation
DEP Property - CT ECO Complete Resource Guide
GIS Metadata – Contains technical documentation describing the DEP Property data and the data sources, process steps, and standards used to collect, digitize, and store this information in a geographic information system (GIS).
Originators
GIS Data Download