2006 NAIP Color Orthophotography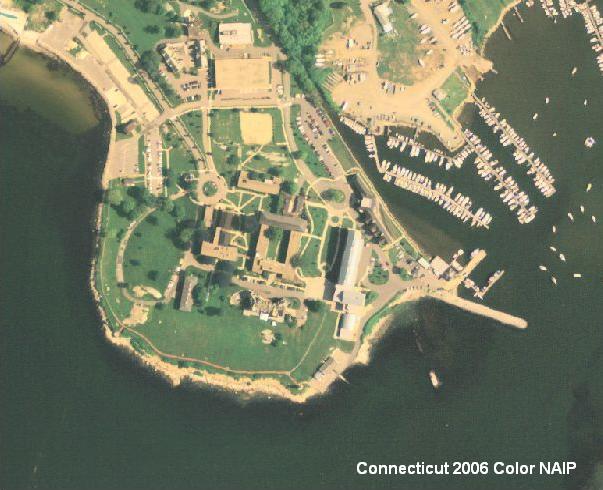 Description
Connecticut 2006 NAIP Orthophotography is a statewide aerial survey of 2006, natural color, leaf on, 3.39 feet (1 meter) ground sample distance imagery for Connecticut from the National Agriculture Imagery Program (NAIP). NAIP acquires digital ortho imagery during the agricultural growing seasons in the continental United States. A primary goal of the NAIP program is to enable availability of ortho imagery within one year of acquisition. NAIP is administered by the USDA's Farm Service Agency (FSA) through the Aerial Photography Field Office in Salt Lake City. This leaf-on imagery is captured during the peak growing season and is used as a base layer for GIS programs in FSA's County Service Centers, and is used to maintain the Common Land Unit (CLU) boundaries. The ground resolution for this imagery is 3.39 feet (1 meter) per image pixel.
Purpose
Orthophotography combines the image characteristics of a photograph with the geometric qualities of a map. It serves a variety of purposes, from functioning as a cartographic base to supporting identification and mapping of habitat areas through photo interpretation. This leaf-on aerial survey is ideal for observing crop condition.
Use Limitations
This statewide mosaic of 2006 orthophotography is not color balanced so tonal imbalances between individual input images are not corrected. As shown in the nearby example, the range and intensity of colors varies depending on the area viewed. For example, surface water bodies and and trees appear in different intensities of blue and green across the state. Because the 2006 aerial photography was taken during the peak agricultural growing seaon, the tree canopy blocks the ground surface from view and creates shadows that also obscure nearby features. Also, the location and shape of features in other GIS data may not exactly match information shown in the 2006 aerial photography primarily due to differences in spatial accuracy and data collection dates. For example, a stream in the 1:24,000-scale Connecticut Hydrography data from CT DEP may not line up exactly with the watercourse shown in the 2006 aerial photography. Their location and shape are bound to be different because information such as hydrography compiled from older 1:24,000-scale USGS topographic quadrangle maps, lacks the spatial accuracy of and is less current than the 2006 orthophotography.
Dataset Information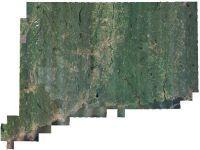 Additional Documentation
Originators
GIS Data Download