Parcels for Protected Open Space Mapping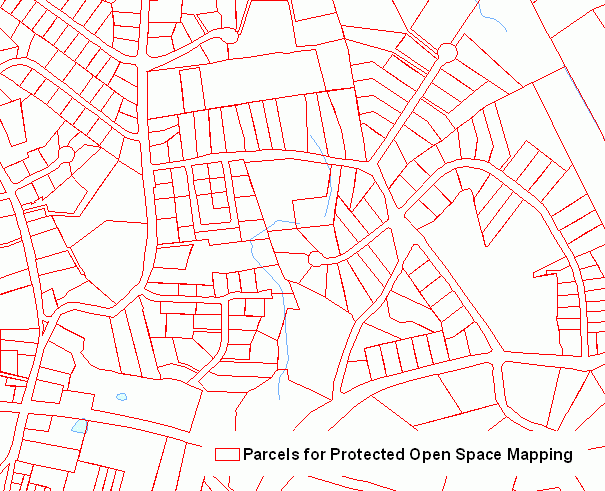 Description
Connecticut Parcels for Protected Open Space Mapping includes parcel boundaries for the Connecticut towns that provided this information to the Department of Energy and Environmental Protection (DEEP) in support of the Protected Open Space Mapping Project (POSM) project. POSM is a statewide inventory of open space as defined by DEP. This definition includes primarily undeveloped land used for conservation, preservation, or passive recreation purposes. Parcel information is based on digital spatial data collected from municipalities during the 2003 to 2009 time period. This information is not up to date and may be inaccurate in some areas. It should only be used as a quick reference and not as a legal parcel boundary source. Information for each parcel includes the town name, map block and lot number, a parcel identification number (PIN), street name, and parcel size in acres. Tax assessment and other related information such as owner name, building descriptions, assessment, and zone is not included, but is available from the respective town office.
As of August 10, 2010, Parcels for Protected Open Space Mapping includes parcel information for the following towns: Andover, Ansonia, Ashford, Avon, Beacon Falls, Berlin, Bethany, Bethel, Bethlehem, Bloomfield, Bolton, Branford, Bridgewater, Brookfield, Brooklyn, Canaan, Canterbury, Canton, Chaplin, Cheshire, Chester, Clinton, Colchester, Colebrook, Columbia, Cornwall, Coventry, Cromwell, Danbury, Darien, Deep River, Derby, East Granby, East Haddam, East Hampton, East Hartford, East Lyme, East Windsor, Eastford, Ellington, Enfield, Essex, Farmington, Franklin, Glastonbury, Granby, Greenwich, Griswold, Groton, Guilford, Haddam, Hamden, Hartford, Hebron, Kent, Killingly, Killingworth, Lebanon, Ledyard, Lisbon, Litchfield, Lyme, Madison, Manchester, Mansfield, Marlborough, Meriden, Middlebury, Middlefield, Middletown, Milford, Monroe, Montville, Morris, New Britain, New Canaan, New Hartford, New Haven, New London, New Milford, Newington, Newtown, Norfolk, North Branford, North Canaan, North Haven, North Stonington, Norwalk, Norwich, Old Lyme, Old Saybrook, Orange, Oxford, Plainfield, Plainville, Plymouth, Pomfret, Portland, Preston, Prospect, Putnam, Redding, Rocky Hill, Roxbury, Salem, Salisbury, Scotland, Seymour, Sharon, Shelton, Sherman, Simsbury, Somers, South Windsor, Southbury, Southington, Sprague, Stamford, Sterling, Stonington, Stratford, Suffield, Thomaston, Tolland, Torrington, Union, Vernon, Voluntown, Wallingford, Warren, Washington, Waterbury, Waterford, Watertown, West Hartford, West Haven, Westbrook, Westport, Wethersfield, Willington, Wilton, Winchester, Windsor, Windsor Locks, Wolcott, Woodbridge, Woodbury, and Woodstock.
Purpose
Use this information to view parcel (lot) boundaries in some Connecticut towns. This information was initially provided to the DEP in support of the POSM Project. DEP used these parcel boundaries as a research tool in identifying open space parcels in each town. This information may serve as a general reference to parcel level information available at the municipal level. It may be appropriate as a general overview or regional analysis. However, for more detailed site by site analysis purposes, the accuracy of this information should be checked and compared with information available from the respective town office or website.
Use Limitations
This information is not complete and not up to date. It only includes information for certain towns that provided information to the DEP for the POSM project. There is not a consistent source map scale due to the various approaches taken at the municipal level to digitize parcel boundaries and this should be kept in mind when using this information. The level of accuracy of the data, both in terms of the spatial data and attribute information, is unknown.
Dataset Information
Additional Documentation
Originators
GIS Data Download