Soil Parent Material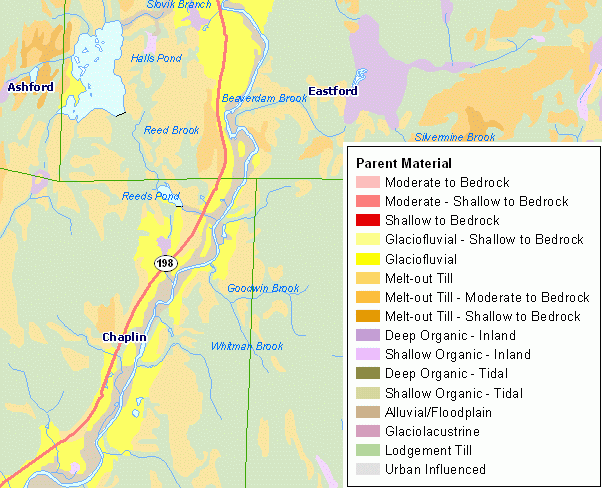 ---
Description
Parent material is a term for the general physical, chemical, and mineralogical composition of the unconsolidated material, mineral or organic, in which soil forms. Mode of deposition and/or weathering may be implied by the name. For additional documentation including a description of the map legend for Soils Parent Material, refer to the CT ECO Complete Resource Guide for Soil Parent Material.
All soil information included in the CT ECO maps and map viewers is from the Natural Resources Conservation Service (NRCS) Web Soil Survey (WSS), which is based on information originally published on the set of Soil Survey quarter quadrangle maps that cover Connecticut.
Purpose
The soil surveyor uses parent material to develop a model used for soil mapping. Soil scientists and specialists in other disciplines use parent material to help interpret soil boundaries and project performance of the material below the soil. Many soil properties relate to parent material. Among these properties are proportions of sand, silt, and clay; chemical content; bulk density; structure; and the kinds and amounts of rock fragments. These properties affect interpretations and may be criteria used to separate soil series. Soil properties and landscape information may imply the kind of parent material.
Use Limitations
This data set is not designed for use as a primary regulatory tool in permitting or siting decisions, but may be used as a reference source. This is public information and may be interpreted by organizations, agencies, units of government, or others based on needs; however, they are responsible for the appropriate application. Federal, State, or local regulatory bodies are not to reassign to the Natural Resources Conservation Service any authority for the decisions that they make. The Natural Resources Conservation Service will not perform any evaluations of these maps for purposes related solely to State or local regulatory programs.
Dataset Information
Additional Documentation
Originators
GIS Data Download