Download Managers
Download managers are designed to help handle and manage multiple downloads at once. This is helpful for bandwidth and managing which files you actually want (and don't want) as well as providing additional functionality. Also, the scheduling function allows you to set a start time so download can happen during the night or other quieter times. At CT ECO, we have had good luck with a download manager called DownThemAll which is an add-on to firefox, instructions following. Also see instructions as they related to the 2016 flight download page here. We also hear good things about FlashGot which is also an add-on to Firefox.
If you would recommend other download managers (there are a lot out there!), let us know and we will add it to the page.
DownThemAll
1. Download and install DownThemAll from their website. You may want to browse the available features.
2. Open firefox and navigate to a page containing files to download such as the map catalog, 2016 imagery page, 2012 imagery page or others.
3a. Download Individual Files
- First, click on a link on the download page. This could be from the pop-up window on the map or from the list of files for each town.
- Select DownThemAll! from the list in the download box and click OK.
- The Add Downloads window provides some options including where to download. Make any changes and click Start!

- The file is added to the Download window. The next time you click a link to download, select dTa OneClick! This direclty adds the file to the download window.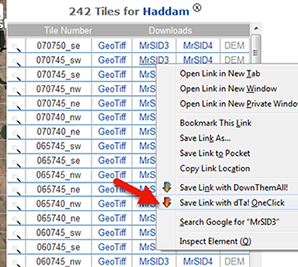 3b. Download Group of Files
- Highlight (click the mouse and drag) some of the files that you want to download. This could be zip files or pdfs or images or others. Right-click over a highlighted area and select DownThemAll!Selection.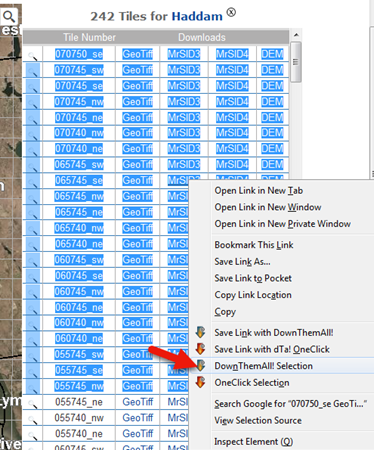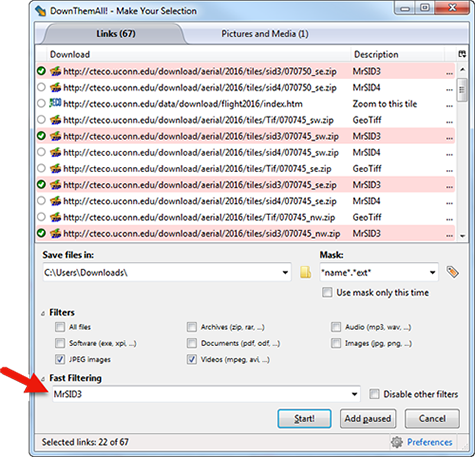 Use the Filters or Fast Filtering options to select ONLY the image format that you want. In the example, fast filtering is used with MrSID3 so that only the MrSID3 zip files are highlighted and checked.
Ciick Start!. The download manager lists the files as they download. There are other options such as pause, cancel and more.
In the case of the map catalog, select a town and then highlight the text that contains the pdfs to download. Right-click and choose DownThemAll! Selection.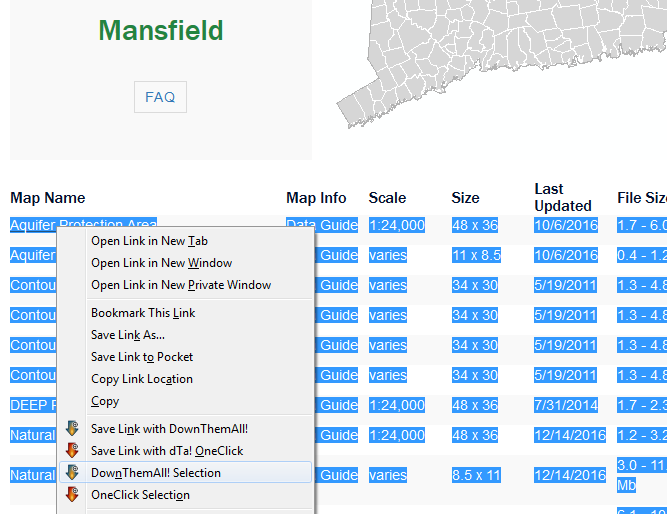 Use the Filters to check Documents (pdf) and notice that only pdfs are checked and will be downloaded when you click Start!