Viewers
Simple Map Viewer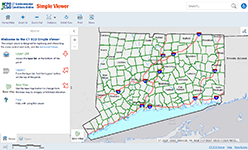 The Simple Map Viewer is for viewing one natural resource theme at a time such as farmland soils, wetland soils, protected open space, natural diversity data base areas, and water quality classifications. Select the map theme to display and optionally overlay it on 1990, 2004, 2006, 2008, 2009, or 2010 aerial photography. The simple map viewer includes links to CT ECO Data Guides and Resource Guides that explain each map theme. Map themes in the simple map viewer closely correspond with the maps available in the Map Catalog.
Aerial Photo Viewer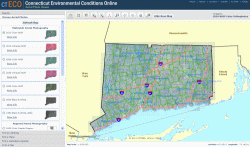 The Aerial Photo Viewer is for viewing aerial photography available for Connecticut, certain regions in Connecticut, and along the Connecticut coastline and Connecticut River. It includes a collection of black and white, color, and infrared photography published by various state and federal agencies for 1990, 2004, 2005, 2006, 2008, 2009 and 2010. Refer to Connecticut Digital Orthophotography for descriptions of aerial photography available in CT ECO.
Elevation (Lidar) Viewer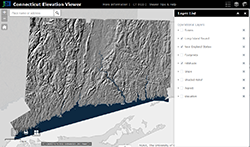 The Elevation Viewer displays a statewide digital elevation model (DEM) that was created by virtually mosaicking eight datasets into one. The result is a seamless elevation map that can be displayed as hillshade, shaded relief, slope or aspect.
GO to ViewerFAQViewer Tips & Tricks
Advanced Map Viewers
The Advanced Map Viewer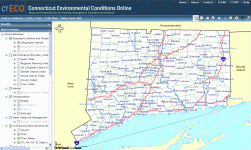 The Advanced Map Viewer is an interactive map viewer that allows you view more data and use GIS tools than available in the Thematic Map Viewers. The Advanced Map Viewer will display more than one map theme or data layer at once, allowing you to customize the map to display the information you want. You choose the map themes to display. For example, you can display Aquifer Protection Areas, Water Quality Classifications, or Drainage Basins with or without aerial photography in the background. You can pan and zoom the map, zoom to a street address or town, click on features on the map for database information, and print a map.
Connecticut Coastal Hazards Viewer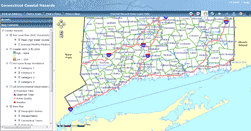 The Connecticut Coastal Hazards Viewer is designed to allow users access to several pertinent suites of data for coastal Connecticut. Presented here are data representing sea level rise, high-resolution coastal elevation, hurricane storm surge, coastal erosion, and environmental observations such as tides, water quality, waves and currents.
Visit the Coastal Hazards Mapping Tool page at CT DEEP for more information
Information
Refer to the Data Guides to learn about the data layers.
Refer to Connecticut Digital Orthophotography for descriptions of aerial photography available in CT ECO.